Broward County's Best Synthetic Turf Installation Services

Broward  County Safety Surfacing is a major provider of synthetic turf for many of the county's playgrounds. Artificial turf is practical, long-lasting, and looks real, most importantly, it needs little or no maintenance. The green nylon and polyethylene fiber combinations give the turf a very natural grass-like look. What lies under a playground is the most critical aspect.
Water passes through the fibers and through the perforations in the synthetic grass backing. Water enters the porous base mat through the perforations due to gravity. It then permeates through the crushed stone and/or soil foundation or flows horizontally to drainage outlets. The industry's longest warranty adds to the exceptional reliability of our synthetic turfs. These materials are often used in the vicinity of wooden equipment such as trim trails.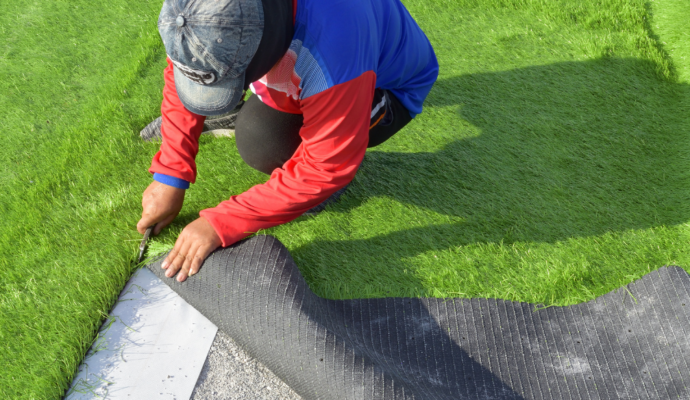 Synthetic Turf Is Low-maintenance. 
It is nearly impossible to find the perfect low–maintenance natural grass alternative for any landscape. mowing, patching native grass, fertilizing, Watering, and weeding on a regular basis… yeah, there goes the weekend. Any of the lawn equipment can be stored in the shed.
Synthetic Turf Offers Adaptability.
If you have ever tried to cultivate natural grass in an extreme environment or on rocky hills, you know how difficult it is to keep a green lawn. Synthetic turf products are practically resistant to the weather, or if you are struggling with steep hills, muddy fields, drought conditions, or difficult-to-grow land, there is an artificial grass crop for you. The cherry on top? This can make your lawn look amazing all year round.
Sustainability Of Synthetic Turf.
Unlike natural grass, fake grass products are made from sustainable and recycled materials, consuming fewer natural resources. Fake turf surfaces help you to save water while avoiding the use of potentially harmful pesticides and fertilizers. You will save money on repairs and lawn supplies, and you will have peace of mind ensuring that you are not dumping any toxic pollution in the atmosphere.
Synthetic Turf Appearances.
Fake grass is environmentally friendly, long-lasting, and low-maintenance, but it is also quite lovely! Overall, several golf courses are finding that synthetic turf is a practical and aesthetically pleasing alternative for real grass. A good artificial turf should look like natural–grass, that is also soft and appealing all year. These are only some of the numerous advantages of synthetic turfs. Imagine seeing a turf that looks amazing all year long without the need for patching, mowing, weeding, or fertilizing!
A Great Alternative To Grass.
Synthetic turf, also known as artificial turf or synthetic grass, is a common alternative to traditional playground surfacing. When children are playing, the synthetic turf adds protection by absorbing impact from falls. The turf is built to have the appropriate impact fluctuation for playgrounds at a variety of fall heights, and it is an excellent choice for ADA accessibility.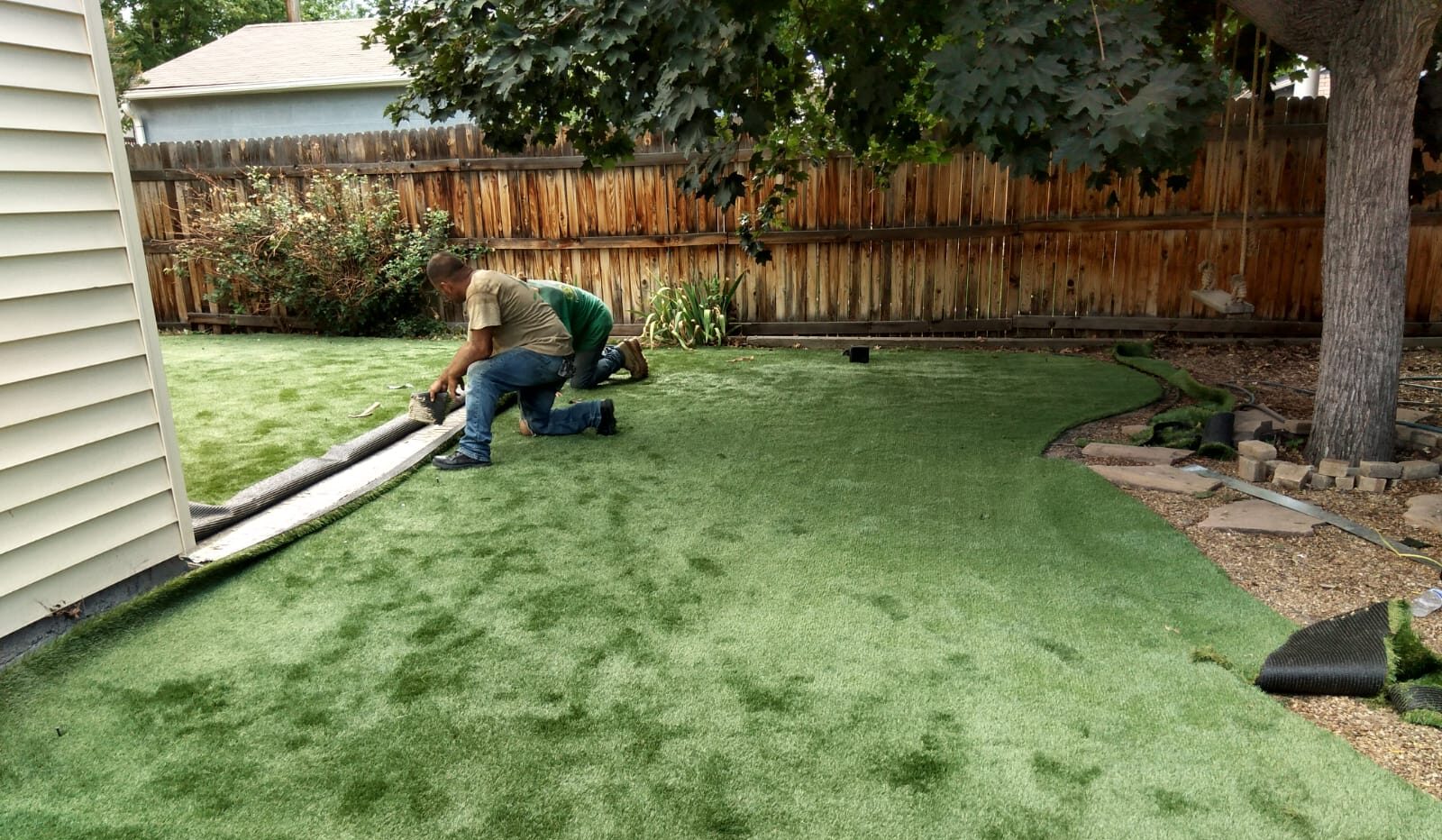 Great Natural Feel.
Synthetic turf is a one-of-a-kind combination of polyethylene monofilament fibers and nylon thatch layers. Its realistic look gives both indoor and outdoor play areas a fantastic natural feel. Synthetic grass allows water to circulate freely, allowing the playground to be used directly after heavy rain. If you have moved into a new home or are planning a major renovation, it is never too early or too late to install synthetic turf.
Hard-wearing Surface.
The synthetic turf used by Broward County Safety Surfacing is specially designed for "big use" playgrounds and has high traffic longevity. The rugged mix of polyethylene and polypropylene fibers avoids wear and tear from foot traffic and the elements, resulting in one of the market's longest-lasting surfacing choices. This blend of fabrics creates a very smooth, luxurious carpet-like texture. Our company's synthetic turf is a one-of-a-kind playground surfacing engineered for both safety and aesthetic appeal in and around play areas. Both synthetic turf materials are environmentally friendly and have the appearance and feel of natural grass.
How Long Does Synthetic Turf Last?
---
While no approved manufacturer promises that synthetic grass can last more than eight years, high-quality artificial turf will last 10 to 15 years, based on wear and tear.
Low-cost Maintenance.
Having a green, well–kept lawn does not have to come at a high cost in terms of repairs or maintenance. Foam padding is installed under the grass to provide consistent fall safety. This is intended to save children from injuring themselves.
Falls account for almost 60% of all playground deaths, so it is important to provide children with a stable surface below. While heavy foot traffic or weather can cause worn areas or bare patches in a natural grass application, artificial turf would not. Synthetic turf is a green choice with a smooth appearance. When it is time to replace your lawn, you should dispose of your turf at any landfill.
Cutting-edge Technology.
Artificial grass technological advancements have culminated in cutting–edge, eco–friendly products that are a long cry from the 1970s "astroturf" products. The nylon thatch layer provides the bounce and resiliency required in a playground surface while also encapsulating the sand infill used to keep the device securely in place.
Natural Looking.
Synthetic turf is a waterless, low-maintenance solution that retains the beauty, purpose, and appearance of natural grass. The backing structure is made of polyolefins, which retain no moisture and resist expansion and contraction, putting less tension on the seams of the synthetic turf and allowing it to form to the contours of the underlying surface, giving it a natural and wrinkle-free appearance.
Broward  County Safety Surfacing certified in-house construction team installs synthetic turf surfacing. Turf is intended to provide the natural appearance of grass to your playground while requiring less maintenance. Our turf is designed to look like fine blade fescue or bluegrass and requires no fertilizing, irrigation, or mowing. Furthermore, our respectable synthetic turf commodity is non–toxic and suitable for both pets and children.
Artificial turf is built to withstand high–traffic environments that are routinely subjected to heavy trafficking, such as playgrounds, schoolyards, pet areas, and sports fields. A dependable, consistent surfacing device is the safest way to shield an infant, and our solutions offer outstanding shock absorption and impact protection from falls, which are the most common cause of severe playground accidents.
Below is our list of additional services:
Locations We Serve
We offer the above surfacing services at the following locations within Florida: